A healthy leap ahead
Employee well-being first, second and third
OneSource Virtual's software and services work together to give your employees the power and flexibility to do whatever needs doing at their fingertips. Whether it's instant reimbursement on commuter benefits, or investing for a better future, the myFlexSpend app provides an intuitive, all-inclusive platform for HSA, FSA and Commuter Benefits for the ultimate aggregated Tax Advantaged Accounts platform. The best part? It integrates seamlessly with Workday.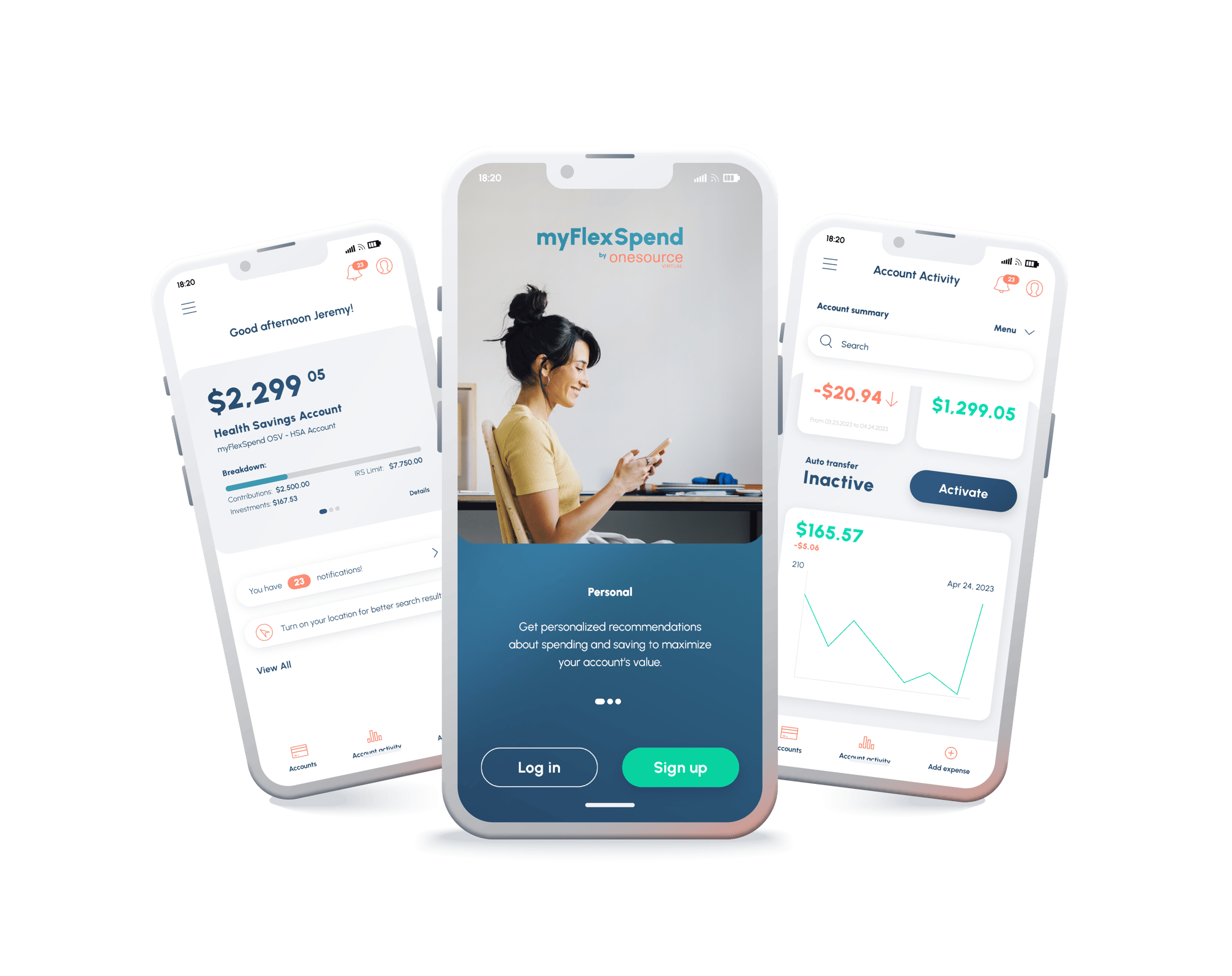 of employees say they are stressed about having enough money to cover out-of-pocket medical costs
of employees say they are staying with their job because of other, non-health benefits
of employees identified tax-advantaged accounts as an important benefit
Flexible Spend
Benefits for your organization
Organisations deliver the best employee benefits when they provide powerful, intuitive tools. Our technology helps your employees gain the ultimate control and flexibility over their tax advantaged accounts. The result is a benefit that becomes more efficient, more personalized, and ultimately more human.
myFlexSpend by OneSource Virtual allows you to offer your employees industry leading tax-advantaged accounts, including HSA, FSAs, and Commuter Benefits without all the hassles associated with multiple partners, complex and costly integrations, and time-consuming management. We'll administer the holistic health and wealth experience your employees need, all in Workday, so that you can focus on your core business and your employees can make the most of the money they earn.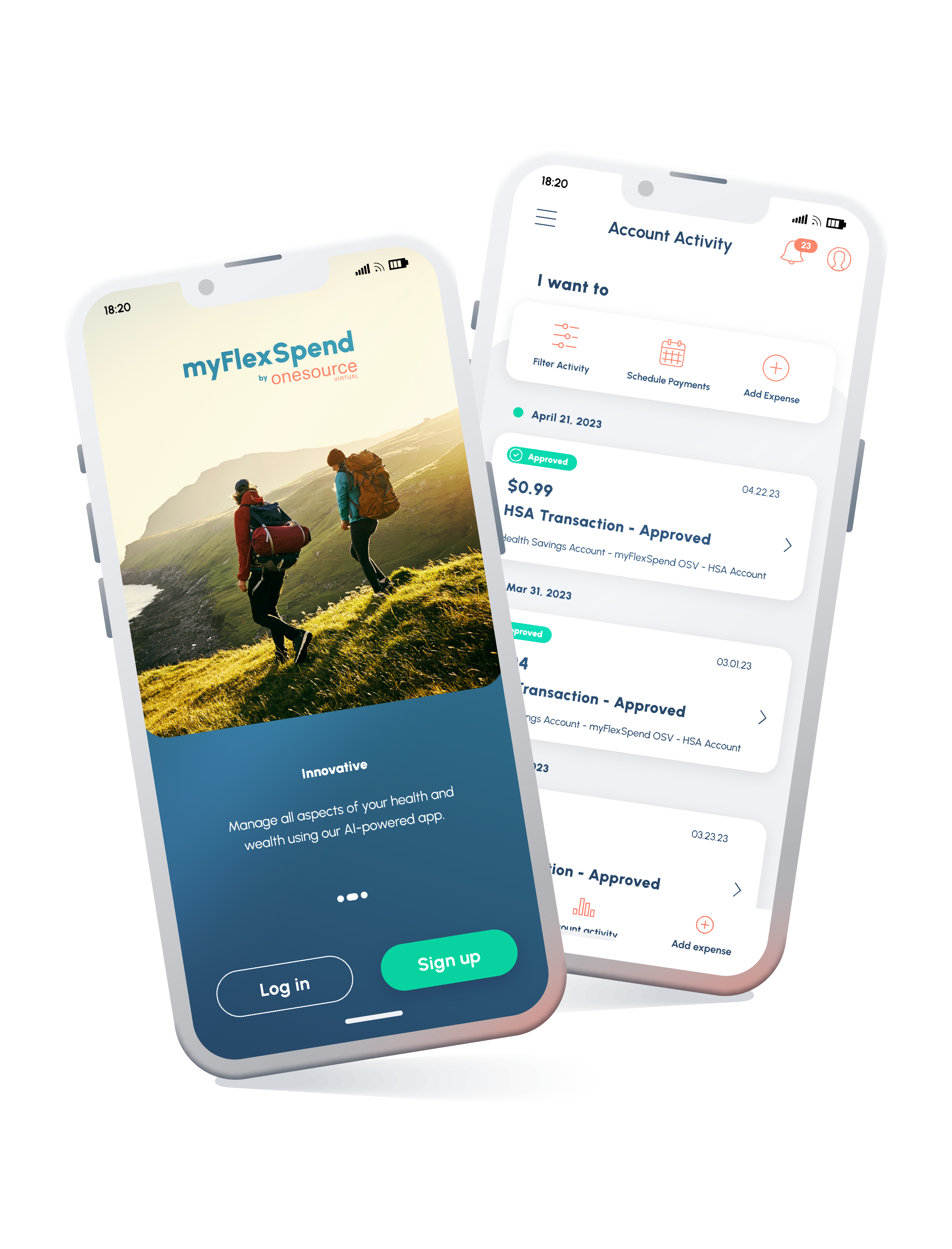 A force in saving
HSAs allow your employees to set aside pre-tax dollars for eligible healthcare expenses, while reducing your FICA and federal unemployment tax liability. Unused funds carry over year to year and your employees can invest what they don't spend, enabling them to build a nest egg for the future.
Amplification of income
With a healthcare FSA, your employees can pay for eligible healthcare expenses on a pre-tax basis, which reduces the amount paid for federal income tax, FICA tax and, as applicable, their state income taxes. Healthcare FSAs cover an extensive list of eligible, reimbursable expenses, as defined by IRS Code Section 213(d).
Healthy finances. Family style
Dependent care FSAs (DCAs) give your employees the ability to pay for work-related dependent care expenses with pretax dollars, which allows them to save on federal income tax, FICA tax and, as applicable, their state income taxes. DCAs may even provide your employees more tax advantages than the federal income tax credit
Commute with contribute
With a Commuter Account, your employees can set aside pre-tax dollars for mass transit and parking expenses associated with their daily commute to work. On average, participants enjoy a 30% tax savings on their annual contribution. This means that you can help them save up to $1,000 per year.*
Vision with a smile
The limited-purpose FSA is designed to complement the HSA and may be established to pay for eligible vision and dental expenses.
Invest smart
myFlexSpend enables smart investing decisions by providing tools to monitor performance metrics and frequently traded stocks and ETFs. Your employees can start investing with a minimum cash balance of $1000 and fractional shares allows them to invest in high profile brands with as little as $5.
Keep everything in one place
One contract. No third-party carrier integrations. We maintain the Workday data flow. All this, and contribute to your bottom line by enjoying an average FICA saving of 7.65%.
Flexible Spend
A simpler, smarter app
The myFlexSpend app makes it easier than ever for users to be engaged in their health and wealth with resources and decision support materials to educate your employees and help them get the most value out of their account
The myFlexSpend app is an essential companion for employees looking to maximise their pre-tax earnings with either HSAs or FSAs. A single app provides an intuitive portal to detailed dashboards where your employees can view balances, claims and investments. Our innovative app allows users to navigate their healthcare choices and benefit from high-quality, low-cost options.The future of health and wellbeing never looked so good.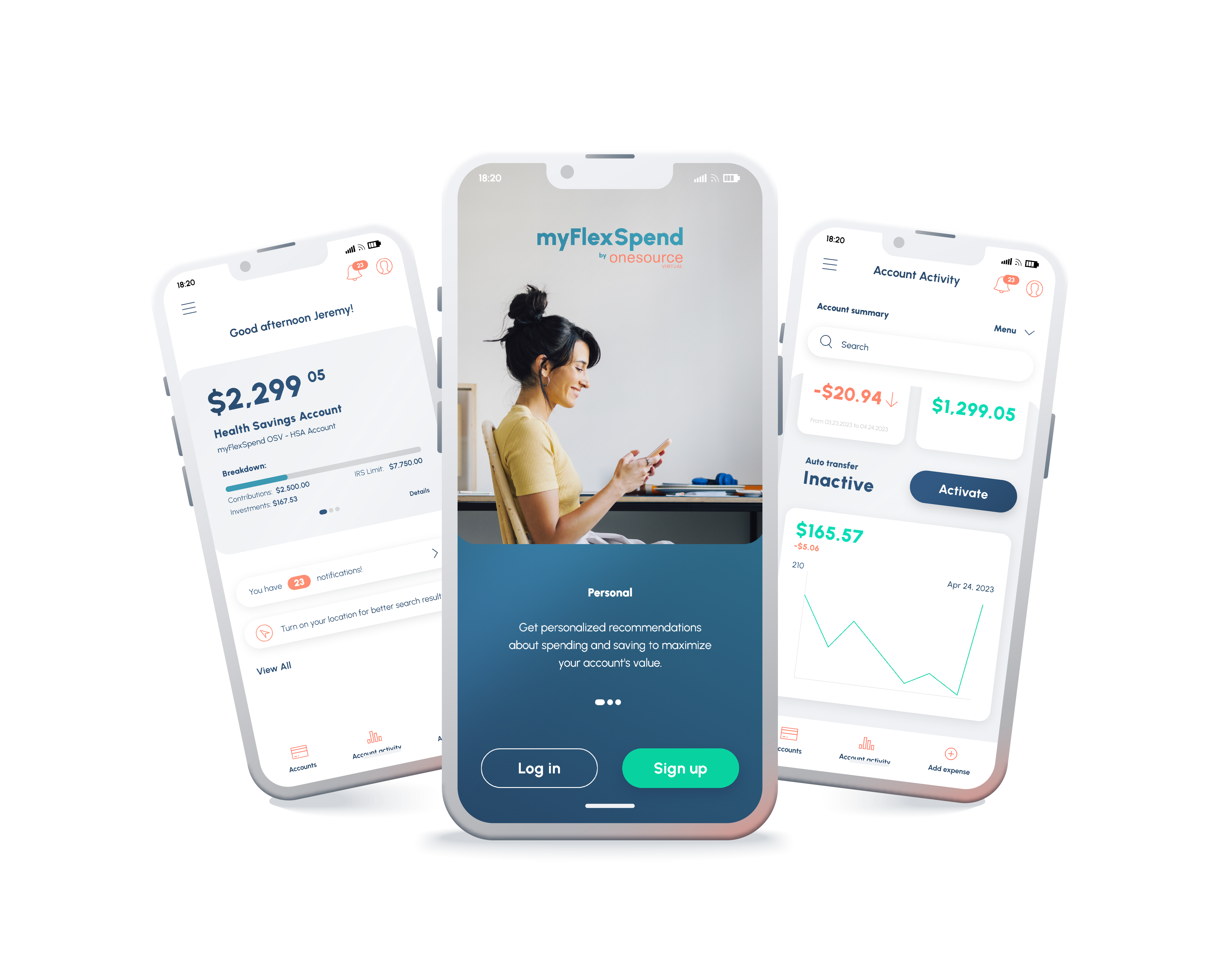 Insights at their fingertips
Keep employees engaged and informed about their account with a real-time administration platform that automatically sends event-triggered alerts and notifications via text and email including when eligible purchases are made with the card or reimbursement requests.
Keep it in their hands
With a convenient self-directed mutual fund, HSA investment options your employees can seamlessly control online transfers between investment account and a HSA cash account. They will also have online access to account history, fund performance, statements, portfolio re-allocation and planning tools.
Powerful and Intuitive
Employees will have constant access to powerful self-service capabilities and convenient anytime, anywhere access to view real-time balances and transactions, submit claims, access plan details and view important account alerts.
A Dedicated Debit Card
With myFlexSped, your employees gain access to a single debit card to leverage for all Health Benefit Account spending. The complementary debit card provides easy, immediate and hassle-free access to funds as and when employees need to make payments. Employees will be free to automatically pay for eligible expenses from the right account on the plan rules in place.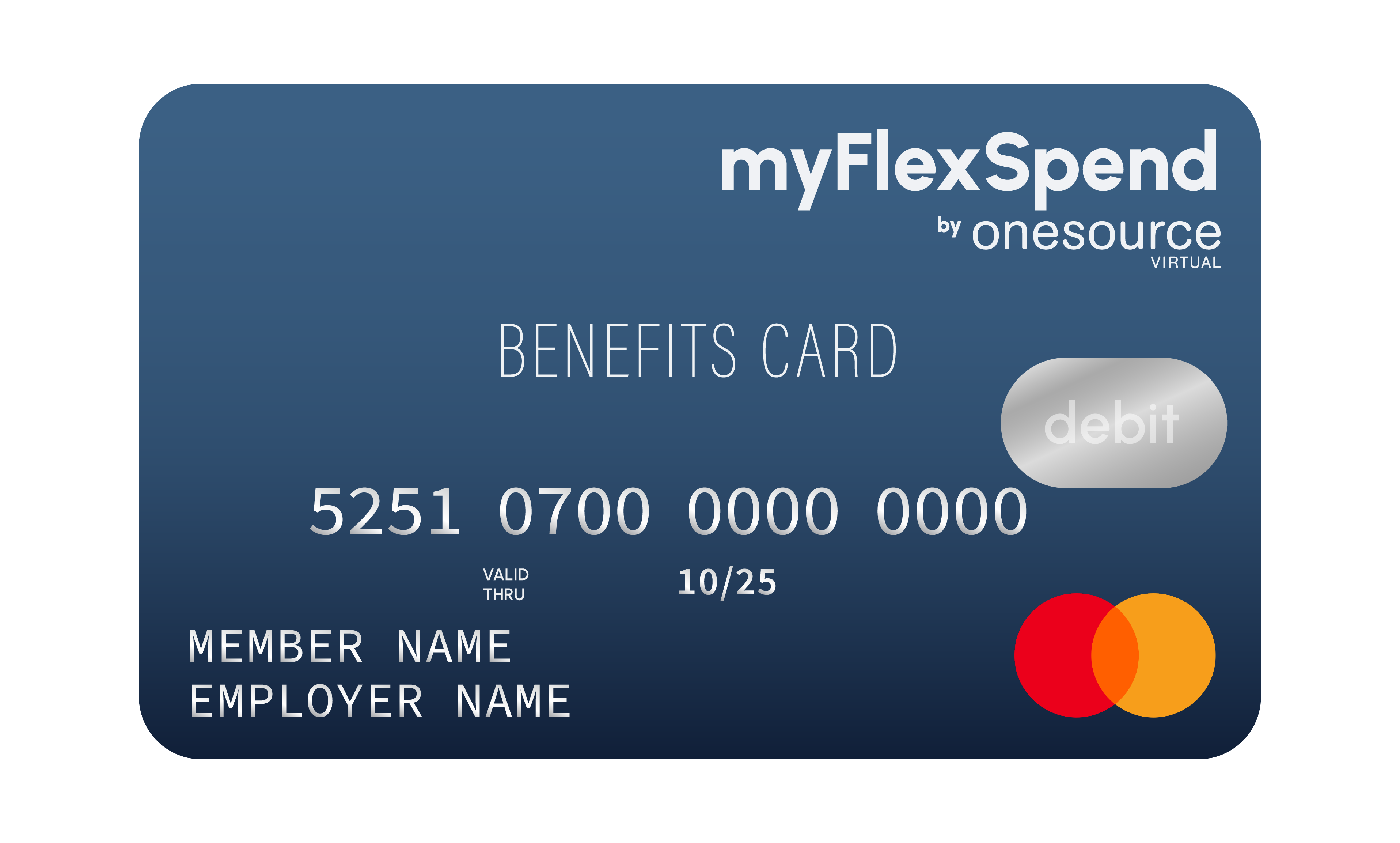 Take it all in. Get it all done.
Keep tax advantaged accounts in one place and access them from anywhere, at any time.
The Edge of Design
One website, mobile app and debit card for all accounts, including FSAs, HSAs, and Commuter Benefits
Peace of Mind
One partner to go to for questions about payroll, benefits, and tax-advantaged accounts
Simple but Powerful
One employee system of record and reconciliation for everything – Workday
One Source for All
One partner to go to for questions about payroll, benefits, and tax-advantaged accounts
Attract and Retain
Attract and retain top talent by offering a robust healthand wealth benefit.
Actionable Insights
Uses predictive analytics to provide users with an estimate of their lifetime healthcare spend so they can make informed decisions
Upgrade to Flexibility
Book a exploration meeting or demo with one of our experts
Contact OneSource Virtual
What can OneSource Virtual help you get started with today? Fill out the form and let us know.